The title of this post introduces you to a fine Kohala Coast Mediterranean restaurant, Meridia, but I really want you to meet Chef Junior who brings the Aloha and talent to an amazing dining experience!
We introduce you to Chef de Cuisine, Junior Ulep, Meridia Restaurant, at the Westin Hapuna Beach Resort and show you glimpses of his Mediterranean themed menu in our latest YouTube video below.
In this video we also discuss our intention to bring you more of these types of "Meet the Chef"/ "Meet the Farmer" videos to showcase the talent and hard work of our island culinarians and farmers and introduce you to not only taste of the island, but learn where the food comes from and how it is produced with an eye towards sustainability.
The Ultimate Dining Experience
As we prepared for a golden sunset into the ocean overlooking the beautiful Hapuna Beach, our party sipped craft cocktails and awaited our menu tasting last Thursday at Meridia. Soon we were treated to an eclectic array of appetizers, main courses, desserts and cocktails while also enjoying excellent service from the staff and "talk story" from Chef Junior.
The menu items we tasted included Keahole abalone and grilled octopus with fiddlehead ferns, Kaua'i shrimp, Kona clams, mango gazpacho, bacon wrapped dates and more! We enjoyed dinner (I had the grilled rack of lamb with pasta Fregola, basil, garden ratatouille and mint oil which was DIVINE), dessert (chocolate and raspberry lava cake which is perfect for a special occasion and fluffy New York cheesecake) and cocktails (Ophelia's Remedy-Ocean vodka, lavender honey syrup, lemon juice. soda water and charred rosemary) which if you love rosemary in your beverage, you have to try this tasty concoction. The whole meal, shared with friends, was a foodie fantasy.
Meet Chef Junior
Chef Junior is one of the most inventive (and resourceful!) chefs on the island, utilizing his relationship with local farmers and food hubs to incorporate locally grown produce and fruits into his menu, as well as growing herbs and vegetables in the resort gardens. His passion for creating unique and beautiful food is evident in each dish! He even created his own Pahoa Berry jam for the carefully constructed Charcuterie board with hand made wild boars head cheese! (see below)
Chef said if you dine at the restaurant, ask the server to have him come to your table and introduce himself and talk story about the menu items. Now, THAT's service!
One of the take away's I picked up from interviewing Chef was his mission to help support the island farmers and by doing so, he can offer local taste experiences that people flock to the island to enjoy! He purchases fresh seafood from our local producers at the Natural Energy Lab including abalone from our local Big Island Abalone farm, which gives tours!  
In the way that the food critic in the movie "Ratatouille" ruminated about his favorite peasant dish, Chef spoke fondly of the bay leaves  he is growing on a tree behind the restaurant and the feeling it evokes of his childhood and his mother's cooking whenever he breaks open a fresh green leaf to enjoy the savory scent. It is this attention to each ingredient in his dishes and the experience he would like to provide to his guests that makes a meal here not just a dinner, but a memory in the making.
For reservations, see the whole menu and directions: https://www.meridiarestaurant.net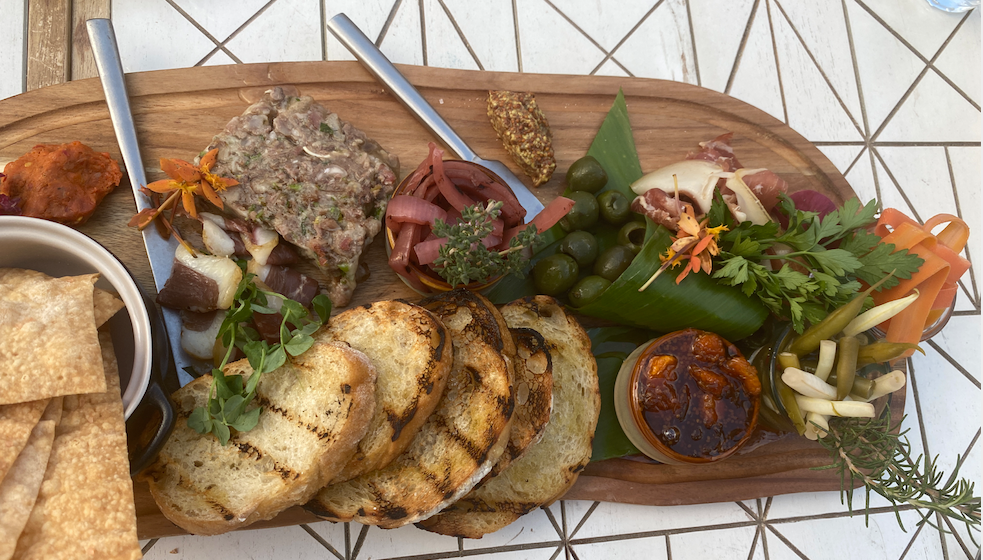 Charcuterie Plate De Maison featuring Jamon Iberico-"Spanish Cured Ham" , Prosciutto di Parma-Italian Carved Ham, 'Njuja-spicy spreadable park salumi, house made pickled green beans, Castelvetrano Olives from Southern Italy, wild boar head cheese, pahoa berry jam, lavosh, and grilled sourdough bread.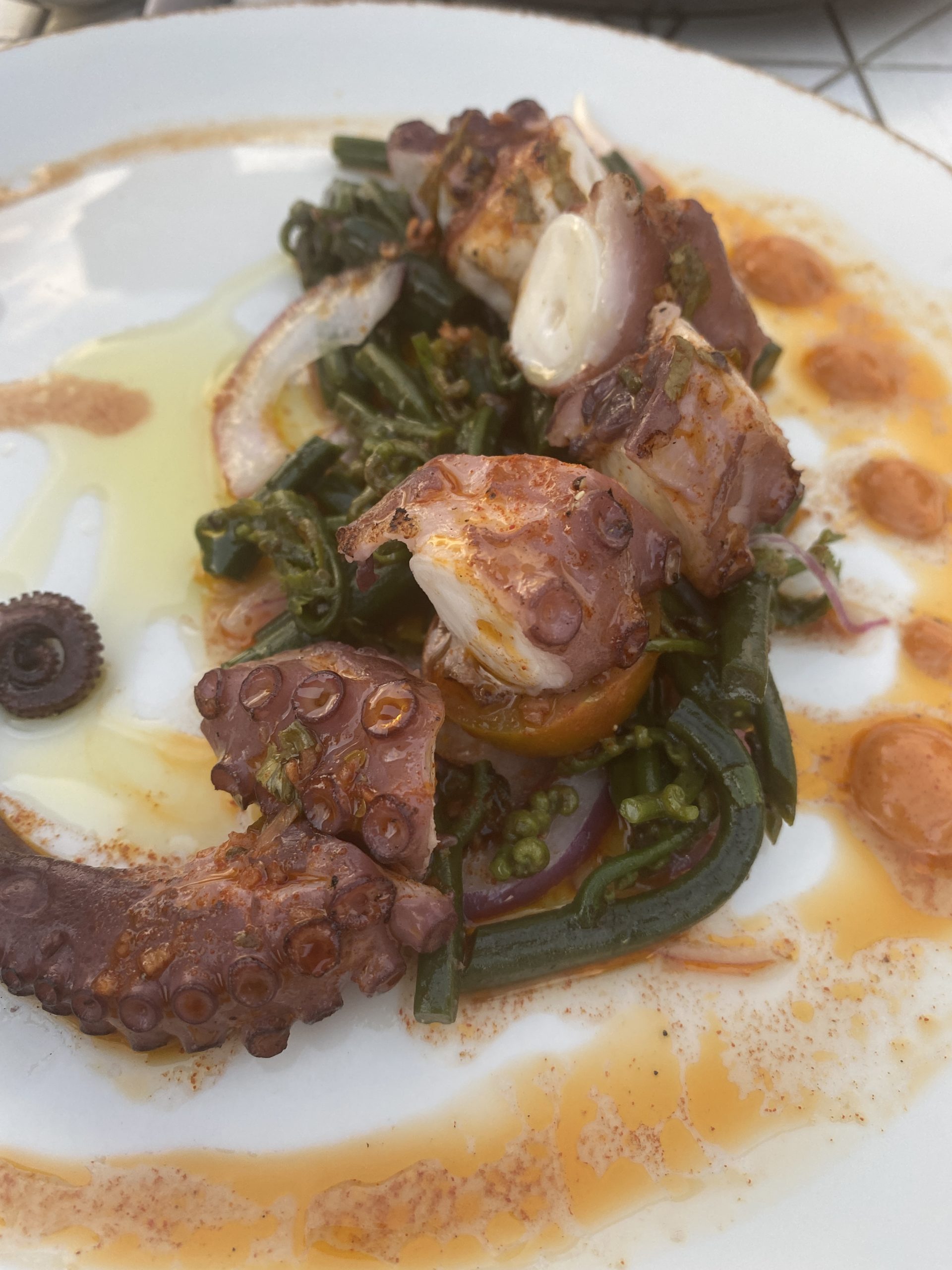 What is Chef Junior holding?
Grilled Octopus, Mojo Verde, 'Ulu Bravas, Big Island Fiddle Head Fern Salad
and
Keahole Abalone Escabeche
Garden coriander left, chive vinaigrette, pickled mustard seeds
Spread the word if you love what you heard! #365kona so we can say Thanks!
Leave a Question or Comment About this Topic